BHS Food Institute Recognized by HAP/Good Food Healthy Hospitals
Category: News
Posted On:
The BHS Food Institute was recently recognized by The Hospital and Healthsystem Association of Pennsylvania (HAP) and the Good Food, Healthy Hospitals (GFHH) initiative in their annual achievement report for innovation. The GFHH is a program though HAP, funded by the CDC and overseen in part by the PA Department of Health. Butler Health System is the first health system in Western Pennsylvania to participate in the GFHH program that promotes hospitals provide healthier food options and nutritional education to their employees, visitors, and patients. In return, this leads to healthier lifestyle choices that help combat high blood pressure, diabetes, heart disease, and obesity.
Butler Health System received GFHH's "bronze" achievement by meeting 2 out of the 5 program standards within the past year. In addition to the BHS Café offering healthier food options to employees and visitors of the hospital as part of the GFHH program standards, the BHS Food Institute is being recognized for its innovative approach in addressing those individuals within the community that may be compromised medically or financially and providing resources to aid them in healthier lifestyle choices through education, coaching, and access to additional community resources. The BHS Food Institute specializes in healthy eating, meal planning, nutritional education, and food preparation on a budget. It was established to provide families facing food insecurity and/or medical conditions a resource for staying healthy by learning about and eating healthier foods.
"As a healthcare system we understand the importance of a balanced, nutritious diet to help reduce chronic disease and promote wellness," said Kathy Selvaggi, MS, MD, FAAHPM, and BHS Chief Community Health Officer. "We are dedicated to providing healthy food options and education to our patients, staff and the communities we serve."
To learn more about the food institute by visiting us here.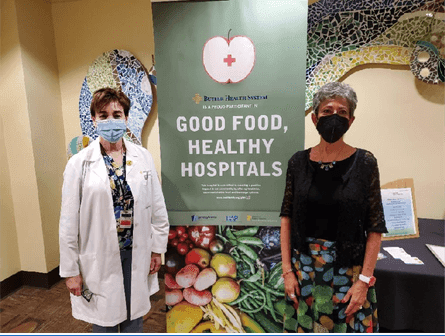 Dr. Kathy Selvaggi, BHS Chief Community Health Officer with Shelley Chamberlain, GFHH Healthy Food in Healthcare Specialist.