BHS Foundation Receives $100k Donation
Butler Health System Foundation has received a gift of $100,000 from HM3 Partners Independence Fund Inc. The funds were raised through a celebrity golf outing hosted by HM3 at Treesdale Country Club in October. Recipients of the golf outing's proceeds were our BHS Foundation and the Jerome Bettis "The Bus Stops Here" Foundation, each receiving $100,000 gifts.
Kevin Colbert and Michael Young, board members of HM3, invited Larry Richert and Ken DeFurio to Heinz Field, and presented the donation to them. Mr. Richert is a BHS Trustee and Chair of the BHS Foundation Board. Mr. DeFurio is BHS President & CEO.
"HM3 Partners continues to give generously, always recognizing the great work of our care team", said DeFurio, "HM3 has directed the gift toward BHS greatest needs funds. Our Butler community has many needs and that only increased during the pandemic. We will put the gift to good use. This support is tremendous".
HM3 Partners Independence Fund was created in 2014 and benefits multiple organizations, groups and individuals involved in promoting causes that support our country, community, and individuals who are less fortunate.
The BHS Foundation provides avenues for individuals, corporations, and philanthropic organizations to support programs and services of BHS.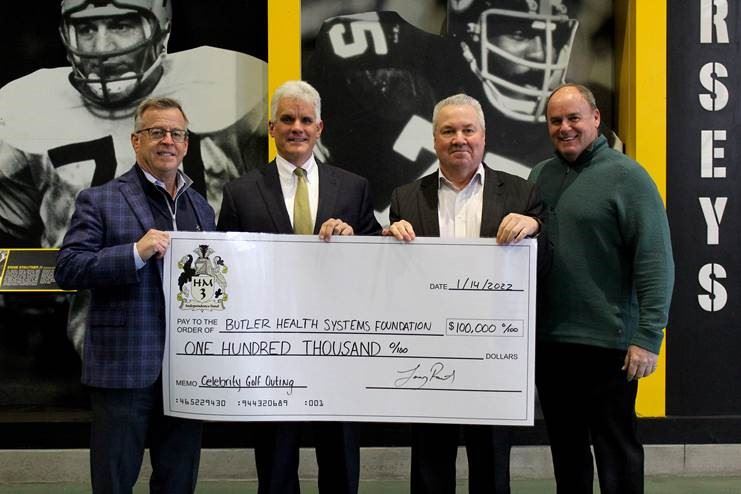 (Left to Right) Larry Richert, Ken DeFurio, Michael Young, Kevin Colbert